In the context created by Covid 19, what are the expectations of customers when it comes to going to the restaurant?
Various studies worldwide reveal that most people intend to go out on terraces, restaurants, cafes, etc.
60% of respondents plan to go out to restaurants when they reopen, to help the HoReCa industry.
Consumers are empathetic toward the plight of restaurants and are less concerned about the risk of going to a restaurant (31%)
During the pandemic, various platforms created the possibility for customers to pay in advance for vouchers and products, so that their favorite places could be kept afloat.
This period also represented an increase of digitalization on the HoReCa level. Restaurants closely kept in touch with customers on social media, informing them of the measures taken or changes. Many restaurants started operating in to go or delivery system, although until now they didn't have this in the plan. The terraces that have been opened have made reservations by phone or online, in order to avoid physical interaction as much as possible. Cash payments are avoided and the credit card payment it's preferable.
We centralized the most relevant data in an infographic.
And we have promising news for the hospitality industry.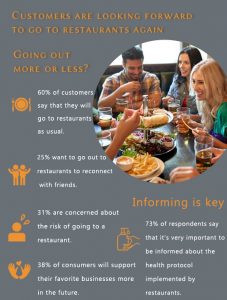 57% of consumers say that their budget has not been affected and they will not pay more attention to restaurant expenses. Another positive sign for restaurants.
The most important aspect for customers is to be informed about the safety measures implemented by restaurants. 73% of respondents say that health protocols are crucial.
People are not only looking for low prices, promotions, freebies and the menu of the day, people want experiences and things well done. If you are not constantly connected to the evolution of society, of people of technology.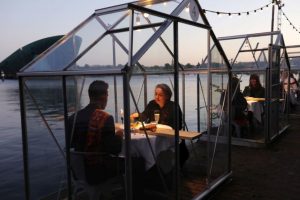 Despite the months in which the HoReCa business was put on hold, studies show that restaurants will have fewer customers than before.
What can you offer customers besides to transparency and ensuring social distance? A restaurant with an original design, terraces with a natural look, intimacy and unique experiences.
HoReCa post-Covid design trends assume that we will see more open kitchens after the restrictions are lifted, in order to be as transparent as possible. The designers chose in their projects surfaces built with anti-microbial materials.
Almost half of the participants in the study say that they prefer the standard restaurant (47%), with tables, in second place being the fast-food locations (45%), followed by the supermarkets that sell hot food (35%).
Other information from other studies:
45% of consumers eat less fast food than before
38% of consumers will support their favorite businesses more in the future
32% plan to cook more food at home after the virus passes
25% want to go out to restaurants to reconnect with friends
22% of consumers want to try new dishes